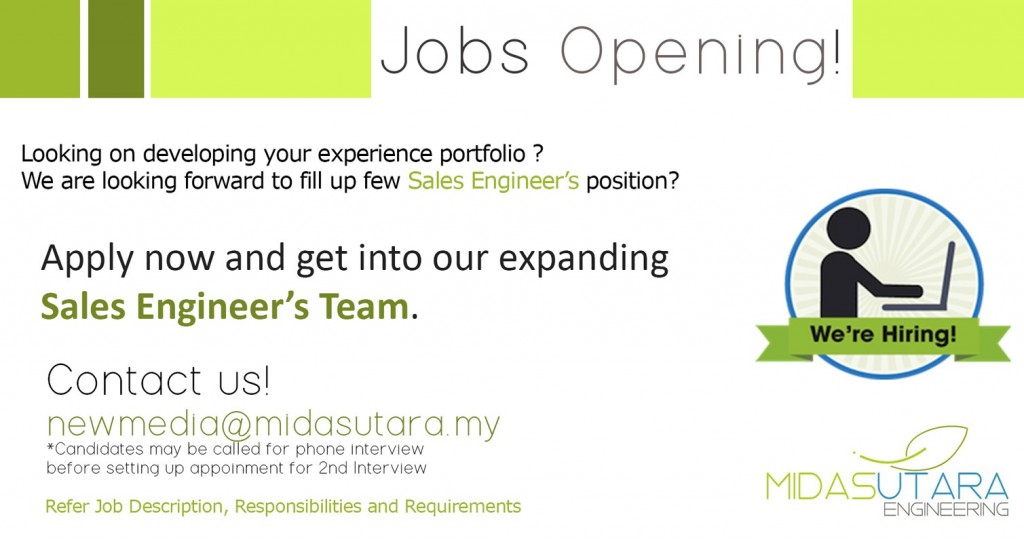 We are expanding and we need you in our organisation. We have multiple Engineering & Executive level openings on technical positions such as Chemical engineers and Sales Engineers beginning today. Relevant Experience & skill sets would be and added advantage. Contact our live support on the page for more information or mail your CV / Resume to newmedia[at]midasutara.my   #WE_ARE_HIRING!

#ROLE_AND_RESPONSIBILITIES
•To achieve sales target through the implementation of effective sales plan.
•Reporting to Sales Manager, and work closely with Sales Manager.
•Listening to customer requirements and presenting appropriately to make a sale;
•maintaining and developing relationships with existing customers in person and via telephone calls and emails;
•Cold calling to arrange meetings with potential customers to prospect for new business;
•Responding to incoming email and phone enquiries;
•Acting as a contact between a company and its existing and potential markets;
•Negotiating on price, costs, delivery and specifications with buyers and managers;
•Making accurate, rapid cost calculations and providing customers with quotations;
•Maintains professional and technical knowledge by attending educational workshops; establishing personal networks; benchmarking state-of-the-art practices.
•Candidate must possess at least a Diploma, Advanced/Higher/Graduate Diploma, Bachelor's Degree, Post Graduate Diploma in Engineering/Technical or equivalent
•Fresh graduates with or without relevant experiences are encouraged to apply. (Training Provided)
•Self-motivated, hardworking, aggressive, independent
•Knowledge of Microsoft office and email usage is essential.
•Good interpersonal skills and pleasant personality
•Possess own vehicle.
•Candidates must be resourceful, committed & independent.
We are opening up for expanding and we need you in our organisation. We have multiple Executive level openings from Finance & accounts Executives, Customer Relations Executives, Business Development Executives and Administration Executives and also technical positions as Chemical engineers and Technicians. Relevant Experience & skill sets would be and added advantage. Contact our live support on the page for more information or mail your CV / Resume to newmedia[at]midasutara.my